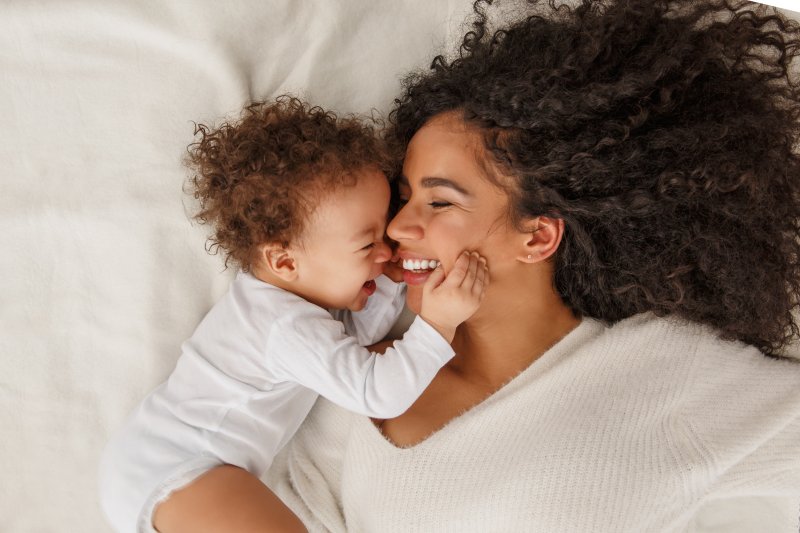 An estimated 20+ million Americans have some form of sleep apnea, and given that high number, there is a good chance some of the people struggling with this condition are also pregnant. Expecting a baby should be a joyous experience, but untreated sleep apnea can lead to several complications for both mother and child. What are they, and more importantly, what can be done to make sure everyone stays healthy until the big day arrives?
Sleep Apnea & Expecting Mothers
The common symptoms of sleep apnea include things like chronic exhaustion (despite sleeping for seven to nine hours each night), morning headaches, mental fuzziness, and a loss of emotional regulation. Sleep apnea is also known to contribute to chronic high blood pressure, or hypertension, which can be especially bad for pregnant moms who are already at risk of preeclampsia. Studies have also shown that mothers with sleep apnea have a higher chance of needing to deliver via C-section and also experience prolonged labor.
Sleep Apnea's Effects on Babies
Anything that compromises the health of the mother will also have an influence on their child. If a mom has consistently high blood pressure, this reduces the volume of blood pumped by their heart. This reduces blood flow to the placenta, leads to a drop in the baby's heart rate, and diminishes the amount of growth hormone released. The result is multiple problems in utero, low birthweight, as well as a higher chance of their being developmental issues that could potentially follow a child for the rest of their life. There is also an increased likelihood of preterm birth, which can be risky for both mother and child.
A Solution That Works for Everyone
Needless to say, if a mother suspects they have sleep apnea, it's in their and their child's best interest to seek out treatment as soon as possible. For many people in this situation, it can be as simple as scheduling an appointment with a sleep dentist. These doctors have special training that allow them to screen for sleep issues, and then they can provide custom-made oral appliances that allow someone to breathe normally throughout the night and avoid the symptoms of sleep apnea. As a result, mom will feel better, their body will work as it should, and this will lead to a smoother pregnancy as well as a healthier baby!
People with sleep apnea shouldn't delay when it comes to seeking out treatment, and that is especially true for expectant mothers. Pregnancy is already hard enough without having to deal with persistent exhaustion…a proven solution is easily available, and it will make sure a child has the best start possible.
About the Author
A graduate of the University of Alabama School of Dentistry, Dr. Jeff Rodgers has dedicated his 20+ year career to raising awareness and treating common sleep issues like sleep apnea and snoring. A Diplomate of both the American Board of Dental Sleep Medicine and the American Sleep and Breathing Academy, he's able to offer the expertise individuals and parents need to make sure they stay healthy and can do everything they need to support their families. To schedule a screening with Dr. Rodgers today, just click here or call (770)394-4310.