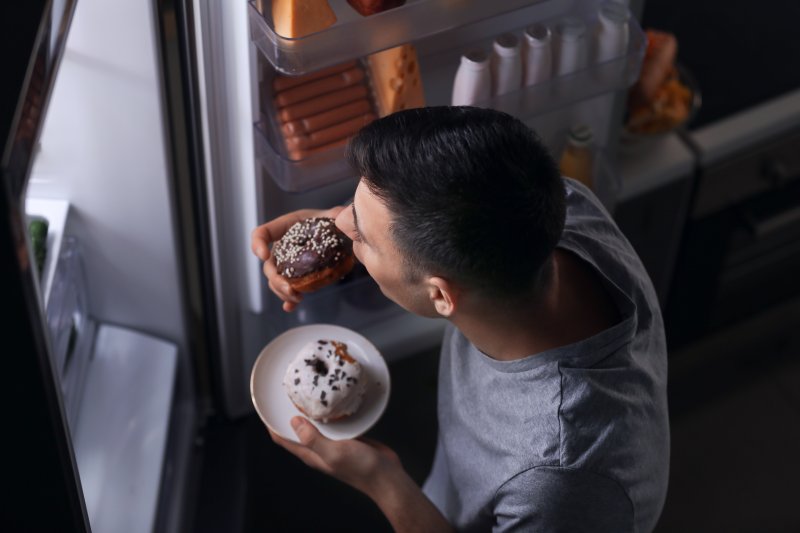 We know that there are many health issues that can stem from poor sleep health, with obesity and cardiovascular problems being two prominent ones.
But did you know that lack of sleep can also impact the way we eat? Researchers recently learned more about how diet, sleep, and overall health are deeply connected.
How Calories & Sleep Are Connected
New research from the Mayo Clinic shows that shortened sleep cycles can be associated with increased calorie intake, leading to more fat accumulating in the abdominal area.
This study looked at 12 participants who were not obese, each spending two 21-day sessions in an inpatient setting. Half of the subjects were assigned to the control group, and the other half were put in the restricted sleep group. After three months, a second session allowed these groups to be switched.
The participants had access to whatever food they wanted during the study. Researchers took note of their energy intake and expenditure, body weight and composition, fat distribution, and appetite.
In the first four days, participants acclimated to the study, and everyone was allowed nine hours of sleep each night. For the two weeks following, the restricted sleep group could only have four hours of sleep, while the control group slept nine hours.
Subjects placed in the restricted sleep group were found to eat 300 more calories per day than those in the control group, consuming a 13% increase in protein and 17% increase in fat.
More Calories = More Sleep Apnea
Obstructive Sleep Apnea (OSA) is a sleep condition characterized by interrupted breathing while asleep, snoring, daytime sleepiness, and more. In many cases, OSA can be tied to obesity and various heart conditions.
Those with an increased caloric intake due to sleep deprivation may see weight gain, causing them to be more at risk for sleep apnea. This should be cause for concern, as OSA and the health conditions associated with it can often be life-threatening.
A Simple First Step
If you or someone you know is struggling with their weight and also experiencing sleep apnea symptoms such as snoring, daytime fatigue, and irritability, it may be time to seek help from a professional. A sleep apnea screening can literally be lifesaving. By getting sleep apnea under control, a patient will have more energy to exercise, and, as highlighted by the research, they will be less prone to overeating as well.
If you live in the Atlanta area, Dr. Jeff Rodgers is here to help. Request an appointment today to learn more about treating obstructive sleep apnea.