Quality Sleep Apnea Treatment in Dunwoody, GA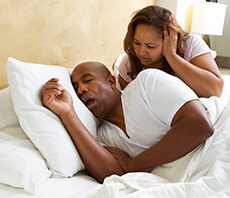 Basically defined, sleep apnea is a health condition that causes short, constant pauses in a patient's breathing while they rest. Although they typically don't last more than a handful of seconds, these interruptions can occur up to hundreds of times each night, resulting in fractured, ineffective sleep. In some cases, sleep apnea occurs when a patient's brain simply fails to send the proper signal for inhalation and exhalation – this is known as central sleep apnea (CSA). More commonly, patients will experience these pauses because their airway becomes partially or fully blocked – this is known as obstructive sleep apnea (OSA). Some patients may experience both to varying degrees, even.
Sleep apnea symptoms can be so complex and so varied that countless people (up to 80% of all cases, even) are not diagnosed correctly for far too long. Common symptoms that should indicate a cause for concern include:
Loud, chronic snoring
Problems with memory and/or concentration
Constant morning headaches
Sore throat in the morning
Dry mouth in the morning
Behavioral changes and/or constant mood swings
Extreme daytime exhaustion
Choking, gasping, and periods of complete silence during sleep
Don't Give Up Hope
Do you suspect that you may be suffering from sleep apnea? The very first step in this process, of course, is to obtain a concrete diagnosis, and that's where Dr. Rodgers and his team come in. We'll ask you to complete a brief, easy sleep questionnaire, found here on our website. After receiving and assessing your results, Dr. Rodgers will determine whether or not a further sleep study is needed.
If you suffer from OSA, oral appliance therapy could provide the reinvigorating results you need. In cases of severe OSA or CSA, traditional CPAP therapy or combination therapy might be the more effective option. Our Dunwoody, GA team will work with you to determine the ideal solution.
Did You Know?
Many patients mistake sleep apnea for insomnia because of the constant awakenings throughout the night.
Sleep apnea has such a significant effect on memory that it's comparable to Alzheimer's or drug addiction.
Adults who receive a solid 7-8 hours of sleep should not feel fatigue during the day.
Patients who suffer from sleep apnea have higher risks of obesity, as well as more difficulty with losing weight and avoiding weight regain.
Even patients who snore without sleep apnea symptoms have a higher risk of developing the disorder over time. In these cases, oral appliance therapy can often be used as a preventive measure.
Patients who suffer from untreated sleep apnea have a significantly increased risk of being involved in a motor vehicle accident. In fact, studies have shown us that exhausted people are often more likely to be involved in an accident than those who are inebriated!
Patients with untreated sleep apnea may suffer from decreased life expectancy.
One of the most common causes of erectile dysfunction is the presence of sleep apnea.
Do you use the bathroom frequently throughout the night? This is a common symptom of sleep apnea.
Bruxism (teeth grinding) can indicate the presence of sleep apnea.
Patients with larger necks and/or tongues may be at an increased risk for developing sleep apnea.
Snoring Can Be More Than an Annoyance
Many people assume that snoring is a harmless habit, and in some cases, it is. However, it can also be the first clear indication that a patient is suffering from sleep apnea. Vocalizations like talking, laughing, and snoring all occur because of air vibrating against oral structures like the tongue, throat, and mouth. While an obstructed airway may not prevent breathing altogether, it may make it more difficult, and the problem only gets worse over time.
If you often experience loud snoring during sleep, please discuss the possibility of oral appliance therapy with Dr. Rodgers. Our Dunwoody team can often use this technique as a preventive measure that helps to prevent sleep apnea later in late and reduce the risks of related health problems, including strokes, high blood pressure, and mental/behavioral issues.
A Successful Alternative to CPAP
CPAP treatment has been considered the go-to solution for sleep apnea for many years now, and when treating patients who suffer from severe symptoms, it can still be the most effective option. However, it isn't right for many patients. The system relies on the use of a bulky face mask that forces air into the throat and lungs through the mouth and/or nose. There's often significant noise involved, and the associated sensations can be a handful. If you suffer from heavy snoring, mild to moderate sleep apnea, or are simply intolerant to CPAP use, please turn to our practice today for assistance. Dr. Rodgers can create a customized oral appliance that comfortably adjusts the position of your jaw, allowing the airway to stay clear and unhindered. There are no bulky machines or loud noises to worry about – the device is simple, removable, and easy to store and travel with.
Will my insurance cover this?
Many medical insurance plans (including Medicare) provide coverage for sleep apnea treatment with oral appliance therapy. Our team will be happy to work with you through this process, processing and filing claims as needed. Visit our new patients page to learn more, or contact our Dunwoody, GA location to schedule your first consultation!
In the News
If you struggle with sleep apnea, you may have heard about the Phillips recall on CPAP machines recently. In fact, Dr. Rodgers was featured in an article from Sleepopolis about the recall and the potential threat to patients' overall health. He shared his expertise in saying that patients who rely on CPAP therapy may have a higher risk of high blood pressure, strokes, and heart attacks as a result of the recall. However, oral appliance therapy provides a viable alternative for those who no longer have access to a functioning CPAP machine. Dr. Rodgers would be happy to discuss the article and this option with you in greater detail, so give us a call and schedule an appointment today!