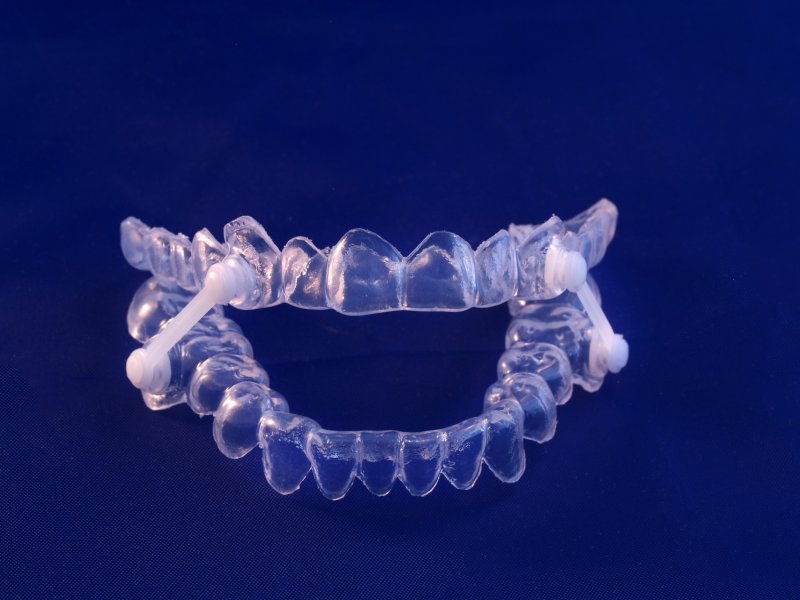 This past June, one of the biggest producers of CPAP machines, Philips Respironics, recalled millions of devices due to a malfunction: The foam used to reduce sound was found to degrade into chemicals that, according to the FDA, can cause serious and potentially life-threatening injuries.
This left the millions of sleep apnea sufferers impacted by the recall to choose between getting rest at night or using a device that could be harming them—at least until Philips Respironics works through a solution with the FDA. Which, according to Philips, could take a year, minimum.
Thankfully, there is already an effective first line of treatment for mild to moderate obstructive sleep apnea, and an alternative treatment for severe sleep apnea patients intolerant to CPAP: oral appliance therapy.
What is Oral Appliance Therapy?
Oral appliance therapy is a comfortable, portable, results-driven alternative to CPAP therapy. Instead of a machine, an oral appliance fits comfortably into a person's mouth, ideally positioning their jaw in a way that keeps the airway open while they rest. Most oral appliances are custom-fit to the patient and the structure of their mouth.
While research suggests that CPAP therapy is the most effective solution for severe sleep apnea, it has an extremely low compliance rate of 30-60%. Meanwhile, oral appliances have a self-reported compliance rate of 77%, suggesting that oral appliances are the widely preferred treatment method for sufferers of OSA.
Compliance is critically important for treatment. Because of oral appliance therapy's higher and more consistent rate of compliance, many dental sleep physicians—and general sleep physicians—are turning to oral appliance therapy as the main line of defense against mild to moderate obstructive sleep apnea.
Additionally, according to Dr. Jeff Rodgers, founder of Sleep Better Georgia and a Diplomate of both the American Board of Dental Sleep Medicine and the American Sleep and Breathing Academy, "Most complications of [oral appliance therapy] are mild and temporary and occur during the short-term as patients acclimate to the device." These complications include hypersalivation, dry mouth, dental pain, gum irritation, facial pain, and jaw discomfort. Those who seek out oral appliance therapy should consult their dental sleep physician if any of these complications occur.
The Advantages of Oral Appliance Therapy
Even before Phillip's recall, more and more sleep apnea patients had begun switching to oral appliance therapy (with the consent of their physicians) because it offers several advantages compared to CPAP therapy:
Effectiveness: While CPAP is typically the most effective method of treating severe sleep apnea, oral appliance therapy offers much higher compliance rates. This consistency in compliance leads to reductions in severe OSA symptoms, and the effective treatment of mild-moderate OSA.
Comfort: With an oral appliance, a patient doesn't have to deal with the sensation of being hooked up to a bulky machine and hose.
Sound: CPAP devices can be quite loud, leading to external sleep disturbances for both the wearer and anyone else in the vicinity. Oral appliances, on the other hand, are completely silent.
Travel: Going on the road with a CPAP machine is a hassle, especially when it comes to flying. As a result, many people leave their devices at home, but oral appliances are small and can easily fit into luggage or even a coat pocket.
Maintenance: While an oral appliance does need to be cleaned regularly, the general maintenance is much simpler (and less expensive) than a CPAP machine, as there aren't any parts that need to be regularly replaced.
Teeth Grinding: In addition to helping with sleep apnea, an oral appliance can also be designed to prevent a patient from grinding their teeth while they sleep, which can prevent dental damage while also putting a stop to chronic jaw and head pain.
Get Treated Today
Untreated sleep apnea can become life-threatening, regardless of its severity. Finding a reliable treatment to replace CPAP therapy is essential to continue living a healthy and happy life without worrying about what the future holds due to the condition.
If you live in the Atlanta area, Dr. Jeff Rodgers can help. Request an appointment today to learn more about oral appliance therapy. On Medicare? Works for us! Sleep Better Georgia works with most major insurances and accepts Medicare.