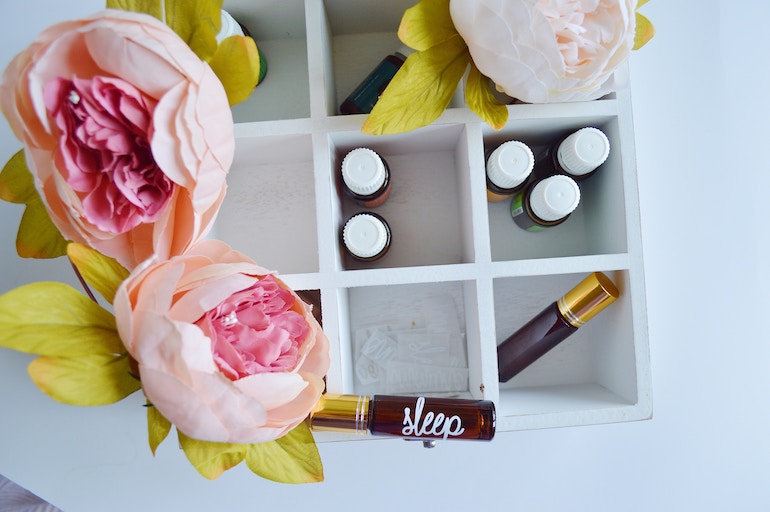 Aromatic compounds can play a key role in a person's mood, energy levels, focus, and sleep. Inhaling essential oils, specifically, can improve sleep quality as the chemicals in the oils interact with the body in various ways. If you frequently struggle with sleep and worry about using artificial sleep aids too often, then certain essential oils may be able to provide a natural way to help you get the rest you need.
Which Essential Oils Improve Sleep?
Lavender
How It Promotes Sleep:  Lavender is known to improve sleep quality and increase the time spent in deep, slow-wave sleep, as well as relieve restlessness and negative emotions. In fact, one study found that people reported a "higher vigor" the next morning after inhaling lavender oil the night before, confirming they received additional restorative slow-wave sleep.
Another study investigated the use of lavender among individuals with insomnia, finding that it led to an improvement in sleep quality and that women and younger volunteers with milder insomnia enjoyed even greater benefits.   
Cedarwood
How It Promotes Sleep: Similar to lavender, cedarwood is thought to be good for detoxifying and clearing negative emotions. Because inhaling cedarwood triggers the release of serotonin in the brain which converts to melatonin, the essential oil is known for its sedative qualities and usefulness in treating insomnia.
Due to its anti-inflammatory properties, cedarwood is also thought to aid in topical skin issues, such as seborrhoeic eczema, as well as internal issues, such as arthritis and nerve inflammation.
Bergamot
How It Promotes Sleep: Bergamot can be useful in preparing your body for sleep, as it slows the heart rate and lowers blood pressure. Unlike many other citrus oils that are said to be energizing, bergamot is calming, can reduce stress and anxiety, and possesses sedative qualities. It has been used for centuries for aiding digestion and is thought to maintain the neural pathways in the brain. 
Studies have also indicated that bergamot can ease chronic pain.
It should be noted that using bergamot topically increases your sensitivity to the sun.
Ylang-ylang
How It Promotes Sleep: Ylang-ylang is thought to help balance both sides of the brain and aid in the processing and release of negative emotions, like anger. In fact, one study found that using ylang-ylang, in combination with lavender and bergamot oil, reduces blood pressure, pulse, stress, anxiety, and cortisol. When it comes to sleep, ylang-ylang can help you fall asleep faster while also reducing stress and anxiety.
Roman Chamomile
How It Promotes Sleep: Chamomile operates as a mild tranquilizer and sleep inducer. Roman chamomile has been used to calm nerves, ease headaches, and aid in relaxation for centuries. Chamomile targets the same parts of the brain and nervous system as common anti-anxiety drugs, and it can also be helpful for reducing aches and pains.
Neroli
How It Promotes Sleep: Neroli is known for promoting a relaxed and slightly hypnotic feeling and can be a helpful catalyst for lucid dreaming and sparking creativity. It aids sleep due to its soothing qualities and functionality as a natural tranquilizer. One study found that neroli oil, in combination with lavender and chamomile oil, was effective in reducing anxiety, increasing sleep, and stabilizing blood pressure.
Another study revealed that neroli can reduce postmenopausal symptoms as well as increase sexual desire and reduce blood pressure in postmenopausal women.
Ways to Use Essential Oils for Aromatherapy
There are multiple ways to utilize essential oils, and knowing all of your options can help you figure out which one works best for you:
Inhalation: Diffusers, steam inhalation, and sprays can be used to deliver the desired effect.
Topical Application: It is important to note that when using essential oils on the skin, you must dilute them with water and not use too much.

The ideal concentration for a topical essential oil is 1% for the body and .5% for the face.
For those using essential oils on a daily basis, .5% or less is suggested.
If Essential Oils Aren't Enough
If you've tried several methods aimed at helping you sleep better to no avail, then you might be suffering from a sleep disorder like sleep apnea. In order to find out if you have it and get treated, you need to undergo a screening performed by an experienced sleep medicine practitioner. Dr. Jeff Rodgers has been helping people in the Atlanta area sleep better for more than 20 years by providing comprehensive custom-made oral appliances that are proven to stop sleep apnea and snoring. If you're tired of feeling tired, you can schedule a FREE consultation with him at Sleep Better Georgia by clicking here.