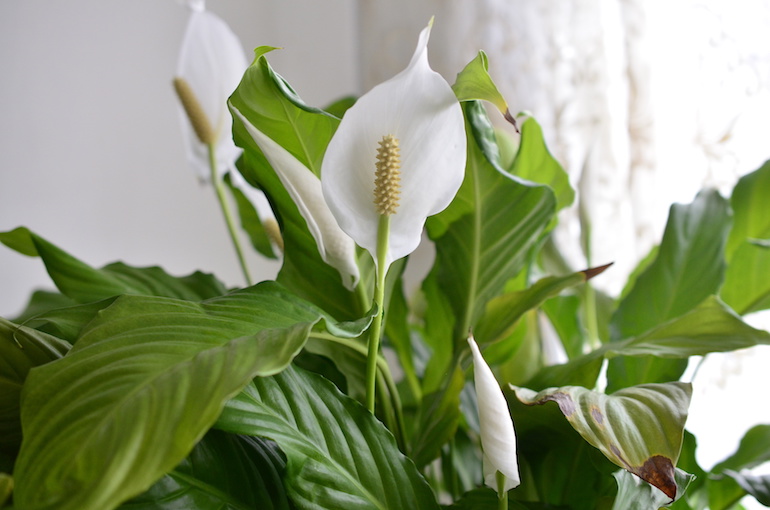 According to a study published in the American Journal of Respiratory and Critical Care Medicine, air pollution may increase the risk factor of sleep-disordered breathing. It is important to consider air quality both indoors and outdoors when it comes to treatments that may help those with sleep apnea. Turns out, certain indoor plants may provide a simple way to surround yourself with cleaner air and breathe easier.
How Plants Can Help You Sleep
As we all know, plants take in carbon dioxide from the air and generate the oxygen we all breathe. This natural process is actually able to filter out certain air pollutants as well, including:
Benzene, which is found in glues, paints, furniture wax, and detergents.
Formaldehyde, which is found in many home building materials, permanent press fabrics, dishwashing liquids, fertilizers, and pesticides.
Trichloroethylene, which is found in many cleaning and degreasing products.
All three of these chemicals have been shown to harm the body and irritate breathing. Something as simple as a houseplant could make sure these toxins never have a chance to impact your health or your sleep.
The Plants That Aid in Sleep
So, which plants can help you sleep like a baby? Here is a list of just a few:
Areca Palm: This is one of the most common plants you'll see in office buildings, but research has shown that it is more than decorative. It also has air purification benefits, which is especially helpful if you have sinus troubles or sleep issues.
English Ivy: This plant has been shown to eliminate about 78% of airborne mold and 94% of airborne feces within 72 hours, which is perfect if you suffer from allergies.
Mother-in-law's Tongue: This plant can help filter out toxic substances that have been shown to aggravate sleep disorders and decrease sleep quality.
Aloe Vera: Known for its beauty enriching and healing properties, it's actually one of the best plants for air purification as it continuously releases oxygen at night. It's also extremely low maintenance.
Lady Palm: As shown in the NASA study linked above, Lady Palm is effective at removing substances like formaldehyde, ammonia, xylene, and toluene from the air.
Peace Lilies: These are not only beautiful, but they have also been shown to breakdown and neutralize harmful gasses floating around the house, even carbon monoxide.
French Lavender: Research has shown that lavender can help with conditions such as headaches, toothaches, and joint pain.
Golden Pothos: This is another plant that specializes in removing harmful toxins from the air, specifically carbon monoxide and formaldehyde, which can help you get better sleep at night.
Spider Plant: This is another low-maintenance but high-reward plant that is great at purifying the air. The spider plant goes head-to-head with harmful chemicals like benzene, formaldehyde, carbon monoxide, and xylene.
Elecampane: One study found that Elecampane was 100% effective against 200 staphylococci (common types of bacteria), including Methicillin-resistant Staphylococcus Aureus (MRSA), a type of bacteria that is a cause for many infections.
Chinese Evergreen: This plant can also help you sleep, as it's effective at cleaning the air that's riddled with air pollutants and toxins.
Sage: Sage is able to help with the overall health of the body and even prevent cognitive diseases, inflammatory problems, skin conditions, digestive problems, and many more. Many people have also claimed that sage acts as a sedative, which can help you fall asleep faster.
When Plants Aren't Enough
If you are still struggling to sleep, even with cleaner air, you may need a more tailored solution. Dr. Jeff Rodgers at Sleep Better, Georgia has successfully helped numerous patients with sleep-disordered breathing and sleep apnea without using a CPAP machine or surgery. Comfortable and effective oral appliances could be all you need to get quality rest and wake up feeling refreshed. To learn more and start improving your sleep today, contact us for an appointment.