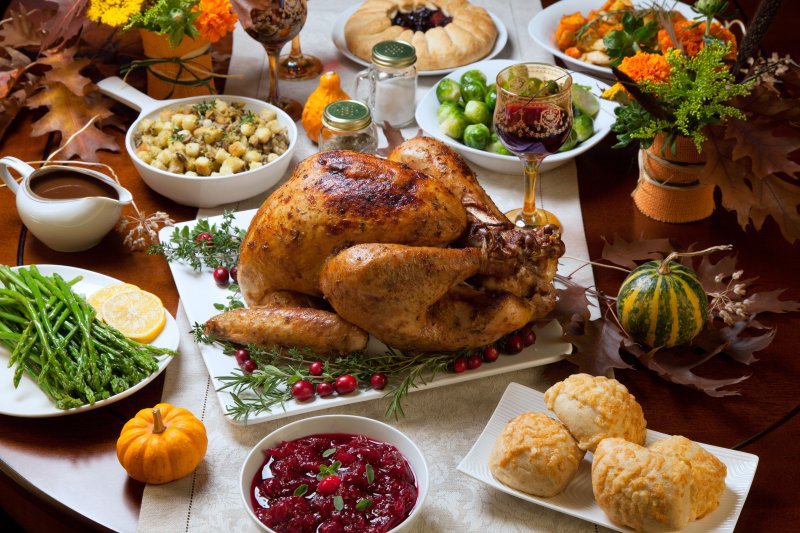 We all know the feeling. You've just indulged in a world-class Thanksgiving meal and now feel the heaviness of your eyes and your brain going foggy. You fall asleep, only to wake up hours later questioning what day it is. While many people have simply accepted this as a Thanksgiving ritual, there is actually a much more scientific reason for this phenomenon: your food. Sounds simple, right? But what you may not know is that certain foods that induce a midday nap might come back to haunt you when you crawl into bed later that evening.
Our diet and sleep are closely linked, and many of us feel this more around the holidays than other times of year due to the abundance of rich meals — and Thanksgiving is no exception. But while some foods may make you sleepy only temporarily, simply requiring a Thanksgiving nap to recover (turkey, we're looking at you), other treats may upset your sleep the entire night. This Thanksgiving, take note of what foods and drinks to enjoy and which to limit in order to keep your body and sleep schedule happy.
Good Thanksgiving Foods to Enjoy
Foods You Should Limit or Avoid
Realistically, it's impossible to avoid all the delicious-but-not-so-nutritious treats that make up most Thanksgiving meals, but you should try to avoid too many "bad" foods and drinks at one time.
Lots of carbs: Those Thanksgiving foods that a lot of people love most — stuffing, sweet potato casserole, mac and cheese — are no doubt incredibly yummy, but they are also undeniably full of carbs. These high-carb foods are the largest culprits of that post-meal Thanksgiving crash because they increase our blood sugar and subsequently, our insulin, making us very drowsy. Generally, naps aren't too concerning, but if you sleep too long, your rest may be disrupted that night. It's wise to limit the carb-heavy side dishes (to about a half cup for each side) and set an alarm to wake you up from your nap after about 30 minutes so you don't overdo it. Learn all about the ideal length of naps here. 
Too much alcohol or caffeine: If consumed too late in the day, caffeine can keep you up at night, and alcohol consumed too close to bedtime will disrupt your sleep cycle. There's nothing wrong with a cup of coffee to get your morning started or a glass or two of red wine to finish the day out — the key is moderation. It's probably best to pass up the post-dinner dessert coffee and the hour-before-bed nightcap.
Energy drinks and sweetened beverages: Both are generally associated with poor sleep quality. If you're going all-in on the pumpkin and pecan pies, it's best to skip the Red Bull, soda, or sweet tea.
Eat (and Sleep) Well This Season
Of course, if you find yourself struggling with sleep any time of the year, you might be dealing with a more serious problem, such as a sleep disorder like sleep apnea. In this case, modifying your diet might help a little, but it won't fix the root of the problem.
Thanksgiving can be stressful enough without having to battle through chronic exhaustion, so if you're already tired before the first course is even served –  and deal with chronic snoring – be sure to contact Dr. Rodgers today to schedule a free consultation to learn if sleep apnea is possibly affecting you.