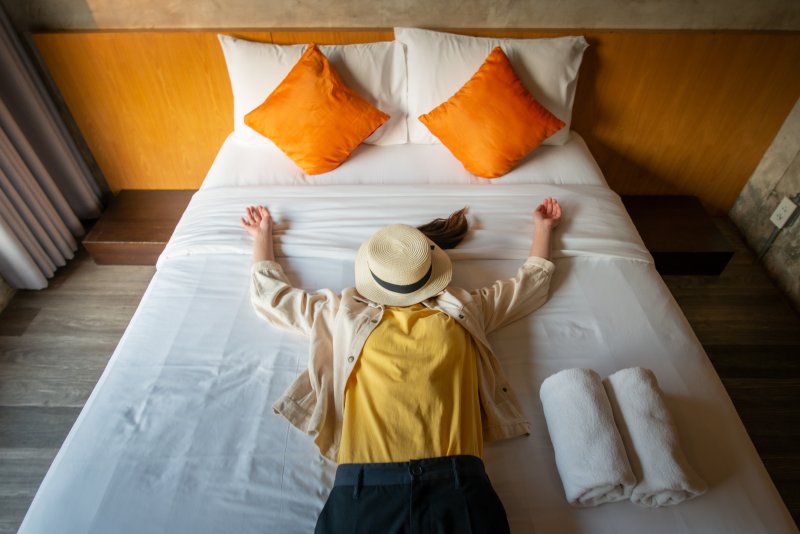 With travel returning to pre-pandemic levels, many Americans are booking hotel rooms and Airbnbs to take off on vacations around the globe. But what does this mean for our sleep health?
Turns out, we may sleep better in an Airbnb than a hotel, and some even report sleeping better in one compared to their own home. Why is this the case? New research has shed some light on the subject so we can all get more Zs whether we're at home or on our dream trip.
What Does the Science Say?
A recent study conducted by SleepFoundation.org and the app Sleep Cycle asked users who vacationed in the last two years about their sleep quality when they were away from home.
Around two thirds (67%) of participants reported getting the recommended seven hours of sleep in an Airbnb, a VRBO, or a similar vacation rental, which was significantly higher than the 54% who reported getting seven hours of sleep in a hotel room.
Also, 66% of respondents said that they sleep about seven hours in their own homes, demonstrating that some people sleep better in rentals than in their own beds.
Researchers suggested that those who sleep better in a vacation home do so because it's the best of both worlds– the relaxation of a vacation as well as the convenient feel of a home.
They also pointed out that the reason sleep quality is not as great in hotels is because they don't feel as welcoming as rental homes, and they can often be filled with dry air and noise from neighboring rooms.
A vacation rental feels more like a home, providing better comfort and the ability to spread out across the space.
Tips for Sleeping on Vacation
Whether you're still planning a trip or already have one booked, these simple tips will make sure you stay fully rested and have all the energy you need:
Drink plenty of water: Dehydration can cause nasal irritation and make breathing harder when you're going to sleep.
Do an outdoor activity during the day: Getting exposure to natural light often supports high quality sleep.
Avoid alcohol and late meals: Eating dinner at a normal time and staying away from cocktails a few hours before bed can help you sleep better on vacation.
Stick to your bedtime routine: Keeping your regular routine while you're on vacation can be difficult, but staying as close to it as possible can help you sleep better.
When You Should Plan a Trip to the Doctor
If you or someone you know is experiencing poor sleep quality, whether it's at home or on vacation, in conjunction with telltale sleep apnea symptoms such as snoring, daytime drowsiness, and morning headaches/sore throats, it may be time to seek help from a sleep health professional.
If you live in the Atlanta area, Dr. Jeff Rodgers is a sleep medicine practitioner with over 20 years of experience successfully treating snoring and sleep apnea patients just using custom oral appliances. Request an appointment today to get a free screening and learn more about treating obstructive sleep apnea.